Posts for: March, 2017
By Donald K. Ruddell, DDS
March 30, 2017
As is the case with most celebs today, Beyonce is no stranger to sharing on social media… but she really got our attention with a video she recently posted on instagram. The clip shows the superstar songstress — along with her adorable three-year old daughter Blue Ivy — flossing their teeth! In the background, a vocalist (sounding remarkably like her husband Jay-Z) repeats the phrase "flossin'…flossin'…" as mom and daughter appear to take care of their dental hygiene in time with the beat: https://instagram.com/p/073CF1vw07/?taken-by=beyonce
We're happy that this clip highlights the importance of helping kids get an early start on good oral hygiene. And, according to authorities like the American Dental Association and the American Academy of Pediatric Dentistry, age 3 is about the right time for kids to begin getting involved in the care of their own teeth.
Of course, parents should start paying attention to their kids' oral hygiene long before age three. In fact, as soon as baby's tiny teeth make their first appearance, the teeth and gums can be cleaned with a soft brush or cloth and a smear of fluoride toothpaste, about the size of a grain of rice. Around age 3, kids will develop the ability to spit out toothpaste. That's when you can increase the amount of toothpaste a little, and start explaining to them how you clean all around the teeth on the top and bottom of the mouth. Depending on your child's dexterity, age 3 might be a good time to let them have a try at brushing by themselves.
Ready to help your kids take the first steps to a lifetime of good dental checkups? Place a pea-sized dab of fluoride toothpaste on a soft-bristled brush, and gently guide them as they clean in front, in back, on all surfaces of each tooth. At first, it's a good idea to take turns brushing. That way, you can be sure they're learning the right techniques and keeping their teeth plaque-free, while making the experience challenging and fun.
Most kids will need parental supervision and help with brushing until around age 6. As they develop better hand-eye coordination and the ability to follow through with the cleaning regimen, they can be left on their own more. But even the best may need some "brushing up" on their tooth-cleaning techniques from time to time.
What about flossing? While it's an essential part of good oral hygiene, it does take a little more dexterity to do it properly. Flossing the gaps between teeth should be started when the teeth begin growing close to one another. Depending on how a child's teeth are spaced, perhaps only the back ones will need to be flossed at first. Even after they learn to brush, kids may still need help flossing — but a floss holder (like the one Beyonce is using in the clip) can make the job a lot easier.
If you would like more information about maintaining your children's oral hygiene, please contact us or schedule an appointment for a consultation. You can learn more by reading the Dear Doctor magazine articles "Top 10 Oral Health Tips For Children" and "How to Help Your Child Develop the Best Habits for Oral Health."
By Donald K. Ruddell, DDS
March 15, 2017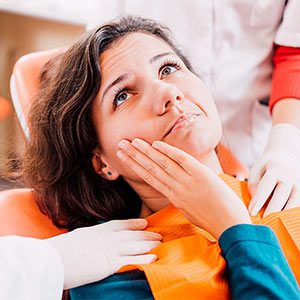 If you have chronic jaw joint pain you may have heard of using Botox to relieve discomfort from temporomandibular disorders (TMD). Before you seek out this remedy, though, be sure you know the facts beforehand.
TMD is actually a group of conditions affecting the joints, muscles and overall structures of the jaw. People with TMD often experience sharp pain and reduced range of motion of the jaw joints. Although we don't know the exact causes, we believe stress (accompanied often by teeth grinding habits) is a major factor for many patients.
Treatments run the spectrum from conservative to aggressive. Conservative treatments include cold and heat packs, therapeutic exercises, and muscle pain or relaxant medication. On the more aggressive side, patients undergo surgery to reorient the lower jaw. Most people gain a significant amount of relief from conservative therapies; the results aren't as positive with surgery.
Botox falls on the aggressive side of treatments. Approved for use by the Food and Drug Administration for cosmetic uses, the drug contains botulinum toxin type A, a bacterial toxin that can cause muscle paralysis. It's often injected into facial structures to paralyze small muscles and temporarily "smooth out" wrinkle lines. Only recently has it been proposed to help relieve jaw pain.
The jury, however, is still out on its effectiveness with jaw pain. The double-blind testing performed thus far hasn't produced any relevant clinical results that the injections actually work with TMD.
And there are other complications. Some people injected with Botox encounter pain, bruising or swelling at the injection site, and some have severe headaches afterward. Botox is also a temporary solution, not a permanent cure — you'll need another injection a few months later to maintain the effect. You might even develop antibodies that diminish the drug's effect and require higher subsequent doses to compensate.
This and other concerns should give you pause before seeking out this remedy. The best strategy is to try the traditional treatments first, which are also the least invasive. If there's no significant relief, then talk to us and your physician about other options.
If you would like more information on treatment options for TMD, please contact us or schedule an appointment for a consultation. You can also learn more about this topic by reading the Dear Doctor magazine article "Botox Treatment for TMJ Pain."