Posts for tag: crowns
By Donald K. Ruddell, DDS
January 16, 2019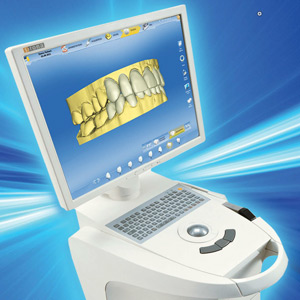 The traditional way to restore a tooth with an artificial crown takes several weeks and multiple office visits: from tooth preparation and impression molding to crown production by a dental laboratory, followed by adjustments and cementing. Now, there's an alternative that reduces this process to a fraction of the time, and all from your dentist's office.
Computer-Aided Design/Computer-Aided Manufacturing (CAD/CAM) is a digital system that enables dentists to create dental restorations with laboratory-grade materials in minutes rather than weeks. As it continues to innovate, you'll see more and more dentists investing in the new technology for their patients.
A crown restoration with CAD/CAM begins like any other with decay removal and preparation of the tooth. It diverges, though, from the traditional in how an impression of your teeth and gums is obtained: instead of rubber-like molding materials to create a physical impression, we lightly dust the mouth interior with a reflective powder. Using a scanning wand, the reflective powder allows us to capture multiple, detailed images of your mouth that the CAD/CAM computer transforms into an accurate three-dimensional model.
We use the model to first assess if the tooth has been effectively prepared for a restoration. If so, the design feature of the system will provide us with thousands of tooth forms to choose from to match with your natural teeth. You'll be able to view the proposed size and shape of the new crown via computer simulation before signing off on the design.
Next is the actual manufacture of the crown that takes place right in the dentist's office. A pre-formed block of ceramic material is inserted in the milling equipment where, following the pre-determined computer design, the milling heads carve the ceramic block. After milling, we fine-tune the crown surface and apply stains or glazes fired to create a life-like color and texture that matches your natural teeth. We can then adjust the crown in your mouth and permanently affix it to the tooth.
While much of the CAD/CAM system is automated, ultimate success still depends on the dentist's expertise and artistry. CAD/CAM enhances those skills with greater precision and in much less time than traditional crowns. It's certainly a growing option for many people to restore the form and function of decayed teeth.
If you would like more information on computer-aided dental restorations, please contact us or schedule an appointment for a consultation. You can also learn more about this topic by reading the Dear Doctor magazine article "Creating In-Office Dental Restorations with Computers."
By Donald K. Ruddell, DDS
January 03, 2018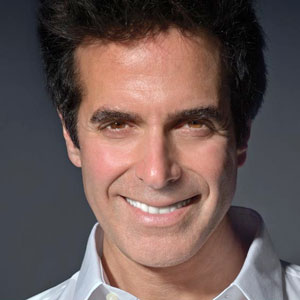 You might think David Copperfield leads a charmed life:Â  He can escape from ropes, chains, and prison cells, make a Learjet or a railroad car disappear, and even appear to fly above the stage. But the illustrious illusionist will be the first to admit that making all that magic takes a lot of hard work. And he recently told Dear Doctor magazine that his brilliant smile has benefitted from plenty of behind-the-scenes dental work as well.
"When I was a kid, I had every kind of [treatment]. I had braces, I had headgear, I had rubber bands, and a retainer afterward," Copperfield said. And then, just when his orthodontic treatment was finally complete, disaster struck. "I was at a mall, running down this concrete alleyway, and there was a little ledge… and I went BOOM!"
Copperfield's two front teeth were badly injured by the impact. "My front teeth became nice little points," he said. Yet, although they had lost a great deal of their structure, his dentist was able to restore those damaged teeth in a very natural-looking way. What kind of "magic" did the dentist use?
In Copperfield's case, the teeth were repaired using crown restorations. Crowns (also called caps) are suitable when a tooth has lost part of its visible structure, but still has healthy roots beneath the gum line. To perform a crown restoration, the first step is to make a precise model of your teeth, often called an impression. This allows a replacement for the visible part of the tooth to be fabricated, and ensures it will fit precisely into your smile. In its exact shape and shade, a well-made crown matches your natural teeth so well that it's virtually impossible to tell them apart. Subsequently, the crown restoration is permanently attached to the damaged tooth.
There's a blend of technology and art in making high quality crowns — just as there is in some stage-crafted illusions. But the difference is that the replacement tooth is not just an illusion: It looks, functions and "feels" like your natural teeth… and with proper care it can last for many years to come.  Besides crowns, there are several other types of tooth restorations that are suitable in different situations. We can recommend the right kind of "magic" for you.
If you would like more information about crowns, please contact us or schedule an appointment for a consultation. You can also learn more about this topic by reading the Dear Doctor magazine articles "Crowns & Bridgework" and "Porcelain Crowns & Veneers."
By Donald K. Ruddell, DDS
December 22, 2016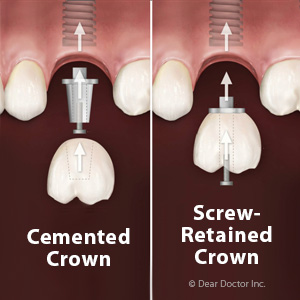 If you've lost a tooth, you have a number of options for replacing it. Perhaps the best choice in terms of lifelikeness and durability is a dental implant.
All implants have the same basic architecture: a titanium metal post imbedded in the jawbone to replace the root; and an abutment, a metal collar that links the post with a lifelike porcelain crown. But implants can vary in how the crown attaches to the abutment and post — either cemented to the abutment or screwed through the abutment to the post.
Either method will permanently secure the crown to the implant. But there are advantages and disadvantages for each.
A screw-retained crown may better facilitate any future repair that might be needed. For a skilled dentist it's a simple matter of removing the screw and then the crown from the abutment. There's less risk of damage to the implant during repairs or crown replacement. Many dentists also prefer screws for crowns placed at the same time they're installing the implant post (a procedure called immediate loading).
The screw access hole, however, could pose a cosmetic problem. Although we can cover it over with tooth-colored filling, it may still be noticeable and unattractive especially for a tooth visible when you smile (in the smile zone). There's also the possibility the porcelain around the access hole could chip.
By contrast, cemented crowns have a smooth, unbroken surface and are aesthetically ideal for smile zone teeth. But the cement could interact poorly with gum and bone tissue in some patients, causing inflammation and possible bone loss.
And unlike screw-retained crowns, cemented crowns are difficult to remove for implant repair. We may have to drill through the crown to access the screw between the abutment and the post, and then repair it cosmetically if we use the same crown. Again, the final result may not be quite as visually appealing.
In the end, it will depend on the implant's location, how your body reacts to the cement or your dentist's preference. In either case, though, you'll have a tooth replacement that's functional, life-like and able to endure for many years to come.
If you would like more information on dental implants, please contact us or schedule an appointment for a consultation. You can also learn more about this topic by reading the Dear Doctor magazine article "How Crowns Attach to Implants."